Want to live like a World Racer for a day?
Answering emails at your desk, shopping at the mall, or sitting through your algebra class might not seem like the ideal setting to live like a World Racer.
But what if it was?
The World Race is about taking "ordinary" moments in your life and intentionally living them for the Lord. Racers do this all the time: Praying for people at the market becomes normal. Teaching English becomes an opportunity to share the Gospel. Stopping to talk to the man on the street is an opportunity to spread the hope of Jesus. You might not be in the bush of Africa, but you can still live missionally!
One key element of the World Race is learning how to listen to the voice of God. Through this, divine moments will rise up in your normal, day-to-day life.
After experiencing God show up in incredible ways throughout their World Race journey, two World Racers, Courtney and Joanna of S Squad who launched in January of 2017, started a global initiative inviting the world into this incredible experience with God.
You are invited to join S Squad along with Adventures in Missions staff and missionaries across the globe on Tuesday, July 25th for an "Ask the Lord: Around the World" Day!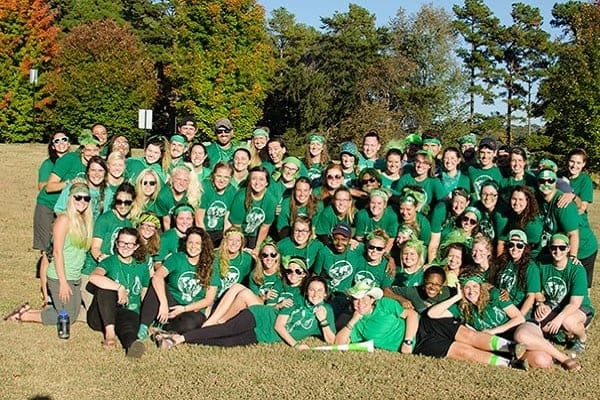 S Squad, Launched 2017
"ATL", or "Ask the Lord," is a time to actively seek the Lord and ask how God wants to lead you for the day.
Here's what you do: Take a few moments to quiet yourself before God and ask Him what He has for you today. Here are some ideas to start your prayer:
Lord, where do You want me to go?
Who do You want me to meet?
What do You want me do?
World Racers have been led by the Holy Spirit to meet specific people, to lead worship in city squares, to pray over people, to distribute sandwiches or flowers to people on the street – the way the Lord answers this prayer can look very different!
John 8:47 promises if we belong to God we "hear what God says." Jesus tells us He is our good shepherd and as His sheep we will be able to follow Jesus because we know His voice (John 10).
It might be a little scary seeking God's voice for the first time. It might feel a little weird, and you might feel unsure if what you're hearing is actually from God.
Here's a list of things to use to check what you hear in prayer:
Does it exalt Christ (John 16:14)?
Is it scriptural? Scripture is our authority and God does not contradict himself (Proverbs 30:5-6).
Do other mature Christians confirm it (Proverbs 20:18, Proverbs 15:22)?
Does it bear fruit? Does it produce life or death in those who receive it?
Does God cause it to actually take place (Isaiah 55:11, Deuteronomy 18:21-22)?
We are excited to hear how the Lord moves through His church through seeking His voice and responding in obedience on Tuesday, July 25th!
Leave your ATL Stories in the comment section here on the blog, or through social media using #ATLATW17 for the opportunity for your testimony to be featured!
Want to read more "Ask the Lord" stories from the field?