This week's blog comes from World Race Alumna, Mary B. Safrit, a Manhattan-based writer, podcaster, speaker, and creative coach. She creates content that helps single Christians build community, find belonging, and live out their calling. Her podcast, Unsuitable with MaryB. Safrit, on which she interviews single Christians about their lives and faith, is in its fifth season. You can listen wherever you get your podcasts. For blogs, resources, and more, check out marybsafrit.com.
I left for The World Race as a fresh college graduate in September of 2012. At the end of month 3, we were in Nicaragua debriefing when our AIM squad leaders announced they would be praying about who among us would be raised up to replace them. I sat up a little straighter, immediately convinced that I was the person for the job. The more I thought about it, the more excited I became at the prospect of taking on the challenges of leadership.
I approached one of the squad leaders the next evening and asked if she had a minute to chat. We walked into an alcove and sat facing each other on the lip of a doorway. "I wanted to let you know that I feel like God is calling me to step up and be a squad leader," I stated boldly.
If my squad leader was surprised, she didn't show it. She merely nodded and asked what made me feel that way. I explained that I felt like I could do more, that God had gifted me with leadership, and that this seemed like the next logical step for me.
I left that conversation confident I'd made my case and was a shoo-in for the gig. But a couple of months later when they announced the squad leaders, my name was not among them.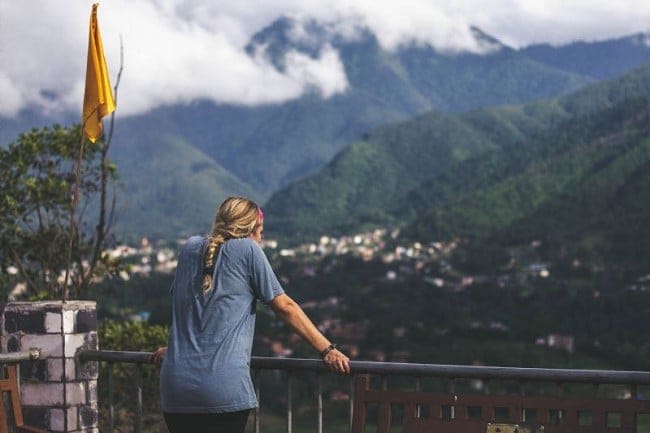 In reflecting on that experience, I considered the month leading up to the conversation with my squad leader. There were five members of our all-female team living in a single room in a house outside of a small town in Nicaragua. Our ministry consisted of making and serving a mid-day meal for area kids, then spending some time with them. We offered some programs but most days some of us played for a couple of hours while others did the dishes. Because our entire team had lice, we spent a lot of time picking bugs and eggs out of each others' hair and doing laundry. We cooked. We watched movies. We spent time with our host. We prayed and studied the Bible together.
It was the first month I realized that the trip wasn't going to meet my expectation for non-stop excitement. I wonder now if the restlessness I felt and interpreted as a call to leadership was actually a call to go deeper where God already had me.
Ironically, the latter was the bigger challenge.
Though the wonderful, exciting things I experienced on the trip and the incredible ways God allowed me to serve were transformative, it was the everyday interactions with my teammates that changed me the most.
In the normal, repetitive shared tasks of laundry and grocery shopping and lice picking and cooking and cleaning and conversing, God met me in a way I didn't anticipate.
Staying put meant being seen and known by my teammates. It was terrifying to someone who has always been far more comfortable doing rather than being. And yet, it was the conflict and messiness of those relationships that pointed me to God's perfect love that casts out fear (1 John 4:18).
Perhaps in this time of the pandemic, your plans for serving God have had to change. Perhaps you had big ideas about international travel to serve and evangelize. These are good and worthy calls, and I am not questioning their validity. But if we believe God is sovereign, that God works all things for good, maybe there is an unexpected opportunity in the call to stay put.
In a recent sermon, Abe Cho said, "The eternal son of God, in order to save the whole world, took on one body, came to one place, in one time, in one culture, spoke one language. In order to save the entire world, Jesus Christ limited himself to be present in one place." Jesus spent the first thirty years of his life in obscurity. And even when he entered his public ministry, he didn't travel far. That task was undertaken by the early church missionaries.
But when Jesus put on flesh and came to save the world, he began life as we all do—as a baby. He had a childhood. He "increased in wisdom and in stature and in favor with God and man," as Luke 2:52 puts it (ESV).
If we view this as a deliberate choice, and I think it was, then perhaps it is worthy of our attention and imitation. Jesus was faithful to the will of his Father, and part of that meant living 90% of his life not in public ministry.
Much like my World Race, this year was supposed to be a big one for me. Maybe you felt the same way at the beginning of 2020.
I joined a mastermind cohort to take my writing career to the next level. I was plugged in and taking on more responsibilities at my church. I was cultivating a community of friends and looking forward to a big trip to celebrate my thirtieth birthday. My mental health was improving and I imagined it would only continue to improve.
I had to reimagine what God might have for me this year, and what faithfulness to my mission might look like.
God has been consistently drawing me back to Luke 17: 20-21. "Being asked by the Pharisees when the kingdom of God would come, [Jesus] answered them, 'The kingdom of God is not coming in ways that can be observed, nor will they say, "Look, here it is!" or "There!" for behold, the kingdom of God is in the midst of you'" (ESV).
With so many necessary limitations imposed on me, God shifted my view of my kingdom work from the macro to the micro, into the nitty-gritty of my everyday moments. God placed me in a particular neighborhood, around particular people, at a particular time.
I began to wonder what it might mean to participate in the work of the kingdom in my midst. Perhaps it's something God is asking you to consider as well.
I've seen the Kingdom at work in the friend who was furloughed and chose to use part of that time helping a neighbor who is blind. I saw it in friends who faithfully purchased gift cards to their favorite local restaurant that closed for three months during the worst of the pandemic. I saw it in my church, which started a relief fund, "dedicated to urgent COVID-19 related needs for New Yorkers beyond our church community." I saw it in the friends who ran errands for me when I had to quarantine.
In this time during which our options have been severely limited, how might God be calling you to participate in the work of the Kingdom that's already in your midst? What is one small step of faithfulness that God has placed in the path you never would have imagined for yourself?