We believe that Jesus intended to change the world. When He asked us to pray "thy kingdom come," he wasn't just speaking poetically. He really wants us to live lives where praying and believing for the "kingdom to come" is part of everyday life.
Maybe you've sensed that you are made for more than what you are currently experiencing.
Maybe you're yearning for someone to show you how to find it and live it out.
When you grab hold of the possibilities for what your life can look like when you live in relationship with God, you can do anything. But for real, where do you start?
Cue the World Race. We created it to give people like you (and us!) space to figure out how to live relationally with God and grow deeper with Him, build authentic friendships, and discover how to make a difference.
Yet from day one, we knew we had a problem. The Race is 11 months long, and looking at Jesus' model, we could see that would not be enough time. Jesus took three years with his disciples.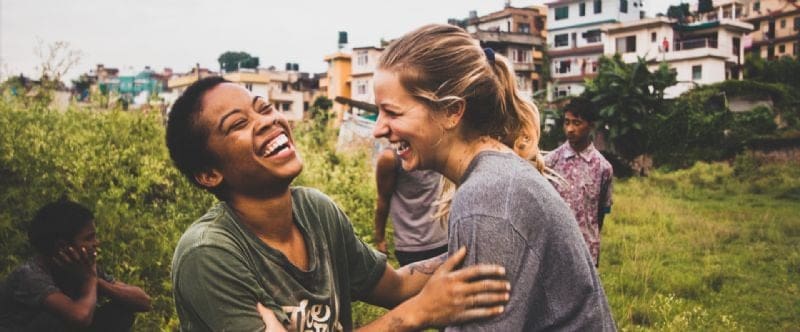 So the question became, "What can we do to help Racers continue to grow once they return home?" 
In 2007, we looked at the Patterson Life Planning model and thought, "If Racers could go through this Life Planning process, they would have a road map to reintegrate into society." We spent thousands of dollars, hired a life planning consultant, trained our trainers, and then flew them to Thailand to train Racers.
Since then, we have continued to develop programs to help folks transition well. In 2010, we rolled out a post-Race conference called Project Searchlight that is a Racer favorite and has garnered great reviews!
Later we started a ministry to alumni and launched an annual conference called the Awakening.
This past year we formed the Global Kingdom Network. It's filled with incredible church partners, intentional communities for Racers to connect with, businesses that have a Kingdom mindset, and so much more! Click here to view the network.
We also created the Kingdom Life Coaches. This is a program that we are super excited about because let's face it: Only a Racer can understand what a fellow Racer going through when they get home. So we hired and trained a team of alumni counselors to work with Racers as they transition back home. These awesome counselors develop trust with individual Racers and continue a long-distance relationship with them during their Race. When the Racer returns, the alumni counselors are available to help them process all that they are experiencing and connect them to resources.
Helping Racers transition back home in a healthy way is a necessity. It helps position them to thrive and live for Jesus long after the 11 months are over. Our team is committed to developing the best and most innovative resources to help folks through the transition.
But you may be wondering, how does this impact me?
If you've been on the Race, the Global Kingdom Network may be a great way for you to connect with community, other ministries, church partners, business partners, and Kingdom Life Coaches to talk through life after the Race.
If you're thinking about going on the Race, know this – we're with you from the start all the way through and beyond. Will it be hard? You bet. Will it be worth it? Absolutely.
Here's what we can guarantee: you won't get famous, you won't get rich, but your life will be forever changed by your YES to following God's heart to see the world know His love.
Are you ready?