In the first blog in our Love God, Love Others series World Racer, Gisele Buenaventura shares the story of the ring she got for her 32nd birthday in South Asia. Like most of us, Gisele had experienced a great deal of hurt and rejection throughout her life and finally came to realize the everlasting love that would never abandon her and the one that could redeem all things was the love that had been there all along.
---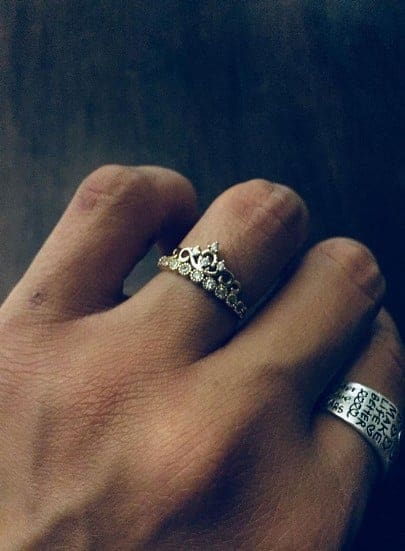 I loved walking through the streets of South Asia. It was crowded, noisy, bustling as vendors attempted to attract us with their goods for sale. I loved the old smell of the clothes, sarees, and kurtas. It was as if they were sitting in boxes and hanging on racks patiently waiting for some tourist or local to take it home. I remember shaking the dust off of one of the pants while the salesman tried to bargain with me. I didn't mind what I normally would have considered an aggressive sales tactic. I thought that it was a nice reprieve to be able to speak to someone in English without the need for a translator.
Only about a week prior I celebrated my 32nd birthday. I always dreamt of someday being in South Asia. And Jesus made this dream a reality during my birthday month where I got to celebrate with my beautiful host family and teammates on the World Race. I remember blowing out my birthday candles while saying a prayer in my heart, "Lord, you call me beloved. Can I be yours forever?"
I remember staring down at my hands as tears fell down my face, overwhelmed by all the love poured out! So much has changed within two years, and a memory of looking at my old engagement ring flashed through my mind. The Lord knew my thoughts, and I heard His silent whisper, "I will redeem everything."
So, as I admired the shopping stores around me, I held on to that promise of redemption. And I knew this was my time to ask Jesus, "Can you put a ring on my finger?"
Out of all the things I could have asked for, why did I want a ring?
Life is full of empty promises and unfulfilled vows. Life is full of agreements and covenants that should have never been made in the first place. I think I spent too many years of life not valuing the weight of my words, unaware of the importance behind being true to what I say. And unfortunately, a lot of hearts were broken because of these unmet expectations.
At one point in my life, I said, "yes" to something I knew should have been a, "no". At one point in my life, I almost said, "I do" to a covenant that Jesus didn't want to bless because it was rebellious and toxic.
It took humility to see the light of Christ, accept His discipline, and realize that He still sees me as His beloved. It took forgiveness to mend my heart and a fresh revelation of love to know that the covenant Jesus made with me when He died on the cross for my sins will stand for eternity.
So this ring I asked for was going to represent my, "I do" to Jesus. It's a symbol of my covenant with Him – an agreement to partner with Him as my Lord and Savior. A reminder to recognize Him as my one and only first love, to remember that I am His to have and to hold, to trust Him and depend on Him for better or for worse, for richer or for poorer, in sickness and in health, to give Him my devotion and worship, until the time we are reconciled for all eternity.
I was inside this tiny cramped store staring at all the golden rings when the salesman approached me.
"I'm looking for a ring," I said.
"What kind of ring?" he asked.
"I'll know when I put it on," I replied.
It took two tries before I found it. The third ring was a perfect fit.
The man told me how much the ring cost and with a stern face stated that he wouldn't budge on the price.
Jesus said, "tell him about Me."
Jesus is mysterious.
I smiled at this man that was glaring back at me with an expression of annoyance and uncertainty. I took a big, bold breath and began to talk to him about Jesus.
I shared with him my heart behind buying the ring. I told him what the ring would represent, and I spoke of how Jesus saved me, forever changing my life.
There I was, in a crowded store on the streets of a closed country, where what I was doing could have been considered evangelism and I was risking the possibility of being arrested because Jesus told me to talk about Him.
Covenant will cost something – trust, surrender, obedience.
I remember that five minutes felt like an hour as I spoke the name of Jesus to this man. I remember feeling my heart beating quickly not knowing what his response would be. I remember seeing my teammates browsing around the store in the corner of my eye and a thought of gratitude passed through my head knowing that I wasn't alone.
The man finally spoke, and he said, "I'll sell it to you for a lesser price."
I'm sure a sigh of relief came out of my mouth as I praised Jesus for such favor.
I made it out of the store just in time for the rest of my teammates to meet up and make plans to head back to our hostel.
As I sat in the back seat of the taxi, the daylight quickly became night. I looked out the window at the city lights flashing by. And Jesus was giving me a fresh revelation of what occurred that day.
The name of Jesus holds power and authority. The name of Jesus shifts the atmosphere. The name of Jesus carries a seed of new life. The name of Jesus can change hearts, even the heart of this salesman who was so adamant on not budging on the price was instead moved to bless me.
I looked down at my hand, curious as to why the Lord would choose this ring for me.
He revealed to me the "why" and I found myself crying silently, in awe of how perfectly thoughtful and intentional He is. I chose the ring because it fit perfectly. But Jesus chose the ring because He knew in advance what all the details would signify.
The ring that Jesus bought me has:
Four stones arranged into a shape of a diamond to represent me surrounded by God the Father, Jesus my Beloved, and the Holy Spirit my friend.
Five ringlet curls that represent my five Ebenezer – afflictions that the Lord saved me from throughout my life.
Eleven stones that make up the band to represent the 11 countries He took me to during my World Race.
A ring-shaped into a crown to represent a verse that I hold dear to my heart and hope to one day be able to say, "As for me, my life has already been poured out as an offering to God. The time of my death is near. I have fought the good fight, I have finished the race, and I have remained faithful. And now the prize awaits me – the crown of righteousness, which the Lord, the righteous judge, will give me on the day of His return. And the prize is not just for me but for all who eagerly look forward to His appearing." – 2 Timothy 4:6-8 NLT
It's taken me more than a year to share this because I am still allowing the Holy Spirit to continue writing the story for me. The beautiful thing about this new covenant: it's timeless, unshakeable, strong, secure, fulfilling, gracious, filled with abounding love, and it can never be broken. The blood of Jesus seals it and I am safe in it.
It's not a perfect relationship because I'm not perfect. But, Jesus…He keeps His covenant and lives out His end of the vow. And, I pray that the Holy Spirit gives me the grace to be a covenant keeper like Jesus. And I pray that I'll continue to grow so that one day I'll be a covenant keeper of a marriage that's truly blessed and approved by Jesus, my Beloved, my first love.
---
Start a life-changing faith journey of your own. It's not too late to join a squad launching on the World Race in August. Check out your options here.