Hurricanes Sally, Laura, and Delta left a wake of destruction behind them in Louisiana. God has been faithful as we've had the privilege of partnering with Samaritan's Purse to send teams to bring relief efforts and spiritual encouragement to those searching for hope. In our first blog in the new In Our Own Backyard series, Graceyn Halabicky, a World Race: Gap Year participant, shares 5 things the Lord has shown her through hurricane relief efforts in Louisiana.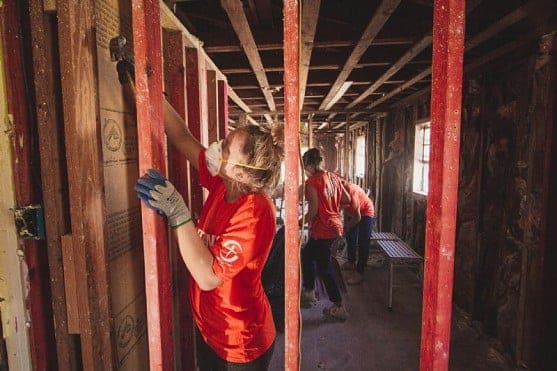 1. Southern hospitality is a real thing.
While staying in Louisiana, the workers and volunteers with Samaritan's Purse have blessed us with their hearts of servitude. We've been spoiled by their warm meals, and even warmer welcomes. Many members of the community have done all that they can to bless us, whether that means in prayer or by doing our smelly laundry each day. Seeing this culture of giving has been incredibly refreshing, and I feel so humbled by their selflessness.
2. Community makes all the difference.
At the beginning of this week my squad had the opportunity to go to a church service in the area. When we arrived I was shocked to see the way their church body interacted. Many times I saw strangers sit near each other, immediately striking up a conversation. It didn't seem to matter that they had no previous connection, for they were all united as brothers and sisters of Christ. I have seen that heart posture play out within my squad these past weeks, and it has created even greater space for the Lord in our relationships. When we recognize that all people have a seat at the table with Jesus, it creates a wildfire of change in the way our communities look.
3. We can worship God in all we do.
Over this past week, I've done a lot of things that have felt mundane. Sometimes, raking leaves or moving boxes seems insignificant. Through this Lord has shown me, that if I perform a task just out of obligation, I have accomplished nothing. Any task we do can bring glory to the Lord, as long as our hearts are partnered with Him in doing it.
4. Partnering with the Lord means always listening for His ask.
When I first began living for Jesus, I didn't realize how much of an impact it should have on everyday life. In order to receive all that the Lord has for you, it requires a constant effort to be open to what He is asking for in that moment. There have been many times in Louisiana where I have been so focused on getting a task done, that I forget about the real reason we are there. Yet if I continually asked what God desired for me in a situation, He would give me opportunities to plant a seed in the hearts of people who God deeply desires connection with.
5. Our world is so hungry for the love of Jesus.
On our first day with Samaritan's Purse, I had a lot of fear that the people we visit would reject our beliefs. I was even to the point of worrying that people would not want our help if we shared Jesus with them. And let me tell you, the Lord SHOCKED me that day. At our first home, we visited a man who did not believe in Jesus, yet when we asked if we could open up the job in prayer, he welcomed it. This man had been through so much in his life, from the sickness of his mother, to having to stay in his home as a hurricane passed over it. I assumed that such hardship might make a person resistant to an all powerful God. Yet the Lord showed me that all this horrific disaster did was open his heart to the love, help, and comfort Jesus provides. This hurricane gave the homeowner a deep desire for peace, for healing, so much so that he gave his life to the Lord that day
My time thus far in Louisiana has been incredibly humbling, stretching, yet so, so encouraging. I have been able to see that the Lord is truly at work in every corner of the earth, and that absolutely nothing can change the Father's longing for us.
---
Ages 17-20 | Discover more of God, yourself, and your calling.
World Race: Gap Year is a 9-month Christian gap year program. You'll serve with our missionary bases and ministry partners in 3 different countries, building community and sharing the love of Jesus with everyone you meet. Discover who God created you to be and how that will impact the choices you're about to make for the rest of your life.