Discover Your Purpose, Connect with Your Tribe, and Achieve Your Dreams at
World Race University.
World Race U is a Leadership Academy that empowers Christ Followers to be the change the world needs.
Are you curious about WRU? Let's talk!
Schedule a 15 minute call with a WRU advisor.
WHAT is World Race U?
Say goodbye to boring classrooms and lecture halls. This isn't your typical college; we are reinventing the entire college experience. It's about so much more than a diploma! WRU is a study-abroad program focused on developing young leaders. We blend community, spiritual direction, and purpose.
At World Race U we say: Don't just dream it, BE it. WRU empowers you to be the change the world needs. 
Is World Race University for YOU?
At WRU, we you were made for MORE!
Do you hunger for MORE OUT OF LIFE than the status quo?

Do you CRAVE A TRIBE of brothers and sisters to run with?

Do you have a God-sized dream

TO MAKE A DIFFERENCE?

Do you want

MORE OF JESUS?
We believe that Jesus has the answers to life's 3 great questions!
Identity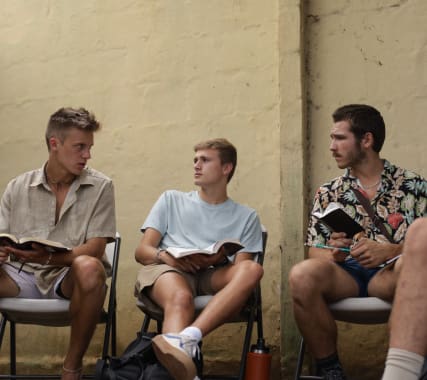 "Who am I?"
Jesus said, "I have called you friends."
John 15:15
Our unique model of life-on-life discipleship is designed to help you walk in your true identity, nurture your faith, and empower you to step into your calling as a dynamic leader.

When you join WRU, you won't walk this path alone; you'll have a dedicated personal mentor and community of peers by your side each step of the way. 
Purpose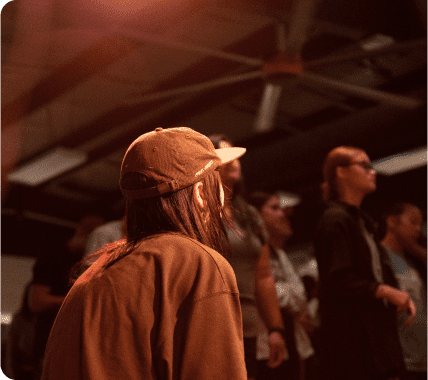 "Why am I here? What is my calling and purpose?"
Jesus said, "I will make you fishers of men."
Matt. 4:19
We are all on a journey with Jesus. WRU is where mentors and dreamers come together, forming a supportive community of visionary leaders who not only inspire but walk the journey alongside you. We'll walk with you on a quest to seek the Lord, inviting the Holy Spirit to be our guide every step of the way.
We believe that God is raising up a remnant, and He has a unique plan for your life. Together, we'll listen for His voice and discover the extraordinary path He has in store for you. At WRU we offer so much more than a diploma, we equip you for a life of passion and purpose! 
Community
"Where do I belong? Where is my Tribe?"
Jesus called them to love one another.
John 17
We all crave a Tribe of brothers and sisters to run with.  At WRU, we don't just believe in creating community; we thrive on it.
Our community is forged through exhilarating adventures, joyful play and wonder, tight-knit small group cohorts, thought-provoking discussions, and the vibrant experience of doing life together."
Are you curious about WRU? Let's talk! Schedule a 15 minute call with a WRU advisor.
What is unique about WRU?
---
Adventure Awaits at WRU! Say goodbye to traditional lecture halls and hello to a college experience like no other.
At WRU, we encourage your dreams and provide an environment where critical thinking, exploration, and rich discussions are the norm. Learn beyond the classroom with cross cultural mission trips and adventure weekends while deepening your faith and forming lasting connections with your Tribe.
WRU was founded by Seth Barnes of Adventures in Missions (AIM) (https://adventures.org/) in Gainesville, Georgia. AIM has been discipling young people for over 20 years and has sent over 160,000 students on cross cultural mission trips. We believe in The Great Commission to preach the good news to all the Nations.
At WRU you and your classmates spend a portion of the semester at one of AIM's international mission bases. You will experience life-changing missions, grow in leadership, and embark on a unique educational journey.
Beyond the diploma!
---
At WRU, we believe students need more than just a diploma. Our graduates gain vital Life Skills paired with  biblical discipleship and character training to be salt and light on the earth."
We empower you to thrive in mind, body, and spirit. Our world-class education is enhanced by personal coaching and mentorship, equipping you with a personal Life Path and the specific skills needed to turn your dreams into reality. We know that graduating from high school and moving towards adulthood is a big transition. We believe you deserve time and space to figure things out. 
That is why WRU offers a semester by semester enrollment process. You will begin with a single semester at WRU! Your mentors will help you seek The Lord and create your personal Life Path. We are here to help you answer the age old question… What do I want to do with my life? What is God calling me to? For those students that choose to return to WRU after their first semester we offer degree programs for an Associates or Bachelors degree!
The WRU Difference Embrace the Adventure
---
Are you yearning for more from your college experience than the mundane classroom routine?
At WRU, we invite you to break free from the ordinary and embrace the extraordinary. Our weekends aren't for textbooks and lectures;
they're for hiking up mountains and even volcanoes
immersing yourself in vibrant Indian markets
exploring the enchanting Lake Atitlan Guatemala
At WRU, we value curiosity and wonder.  It's not about learning from textbooks; it's about learning from life. If your heart longs for adventure and your spirit seeks the unknown, WRU is your passport to an education like no other.
At WRU, we break free from the conventional classroom routine every other weekend to embark on epic adventures.  We encourage you to step out of your comfort zone and discover your true potential. Our adventure weekends and activities are not only challenging but also incredibly fun and unforgettable.
Along the way, you'll savor new foods, discover new places, and explore the world alongside your WRU family.
Join us at WRU, where life and the world are your classroom, and adventure and wonder are essential components of your learning journey.
Next Steps
PRAY and ask The Lord is WRU for you?

Book a Discovery call with a WRU advisor to learn more and ask any questions you may have.

Our team will review your application and give you an answer about acceptance to WRU within 1-2 days!

Upon acceptance pay a $200 deposit to reserve your spot and receive a World Race Merc box ($325 value)

Congratulations! You are a WRU student. A  WRU mentor will connect with you and guide you through the next steps of registering for your classes and fundraising for your mission trip!